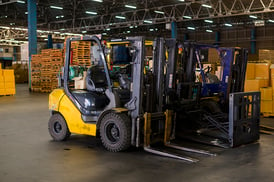 There will come a time when your business or individual practice will need to appraise your used equipment. You may have a desire to sell and replace with newer machinery, refinance an existing inventory, seek new investors, settle an estate or transfer the assets of the business into a new entity. Depending on the type of equipment you own and operate, the amount of data available to review in the marketplace will range from overwhelming to non-existent
The most difficult step in the process of estimating used equipment value is making sense of the information you uncover, or lack thereof. For commonly resold assets such as construction equipment, trucks, and forklifts, you can find many similar comparisons in the market, however, the range in pricing can vary greatly. On the other hand, if you own a specialized piece of machinery that is customized to your specific operational needs, the resale market will not be the best place to search for information.
Equipment appraisers face these challenges every day, which is an excellent reason to consider engaging with an experienced, accredited valuation expert to assist in this effort. Over time, a seasoned appraiser will have developed sound strategies to reasonably determine value regardless of the type of assets you own. In the meantime, here are a few tips that can help you along the way:
Consider Multiple Sources
It's not uncommon to see used equipment with the same year, make and model selling for vastly different prices in the marketplace at the same time. This could be due to any number of variables such as condition, hours/mileage, location, and recent refurbishments being completed. Oftentimes it's simply because dealers are testing the waters to see if they can obtain an inflated price given no immediate concern to sell. With all these factors at play, it is difficult to make sense of the varying data.
It's important to investigate as many distinct sources as you believe reasonable and see if you can determine patterns that will allow you to better value your equipment.
Look at Multiple Perspectives
Given the inconsistent data found in the marketplace, alternate perspectives can bring the valuation process into better focus. Research what you paid for the equipment when you originally purchased it and consider the history of your usage and time since it was acquired. Determine what you believe to be a reasonable useful life for that equipment along with typical levels of depreciation that make sense in the context of your experiences as an owner-operator.
Finally, consider contacting your local equipment vendor to discuss what similar new equipment is selling for and gather their opinions on the current market.
Recognize the Specific Premise of Value You Need to Measure
Appraisers can provide estimates of value at different market levels, and your situation may fall into one or another, as you determine the need to sell. If you are in a hurry to turn your assets into cash, or just don't have a lot of time to market your equipment, consider an Orderly or Forced Liquidation. If you are selling the assets as part of a larger transaction and the purchaser will be taking over some or all of your operation, then Fair Market Value is realistic, with consideration for applicable installation costs and related expenses to bring the equipment into operation.
In summary, it is always a good idea to consider bringing in an experienced appraiser to help you through this analysis who can develop an independent, unbiased process that will be supported by one or all of these methodologies.