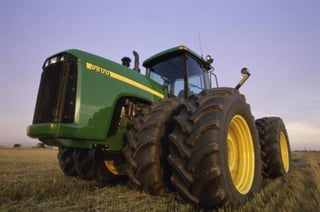 When you run a farm, efficiency and economy go hand in fist with profitability and capability, especially with the weekly changes in market prices. By knowing exactly where you stand with one of your most significant investments, your tractor, you can make better business decisions, including knowing the point where you should buy or sell equipment, whether you have a case for a property tax appeal or similar areas of concern to today's farmer. But how do you know where those points are in terms of value? Getting a solid tractor appraisal can be a great first step towards keeping your farm afloat in an uncertain market.
How to keep your farm afloat with a tractor appraisal
Know the exact value of your operation: Sure, you could loosely calculate profitability when soybeans go sky-high, but what about when you need to grow a crop that may have a narrower profit margin by the end of the season? Knowing your operation's exact value helps you make better decisions, and your tractor is a big part of that value.
Determine the best buying or selling points for equipment: Should you sell that older grain drill now to get a newer piece of machinery or does it make more sense to wait a few months? What about that new combine? Getting a machine appraisal on your tractor helps you determine how much equity you have in your farm in a more accurate fashion, allowing you to buy or sell equipment with less risk to your operation.
Deal with income taxes more precisely: There's a problem with the standard depreciation tables used by the Internal Revenue Service - they're based on average lifespans for equipment. What if you take exceptional care of your machinery or have to run it more roughly due to soil conditions in your area? In both these situations, a standardized table will provide you with the wrong value for your tractor. Equipment appraisals take a solid look at the wear and tear your tractor takes as well as an estimate of how long it can reasonably remain in service. This allows you to report the correct level of depreciation on your taxes, which is an important picture of your farm's profitability and access to financing for expansion or improvements in your operation.
Fight a high property tax assessment: Because a certified equipment appraiser uses standardized methodology to calculate your farm equipment's value, it holds up against very strong scrutiny. Appraisal reports generated using this type of approach work well for insurance issues, legal matters and at tax agencies, making it much easier to prove that your tractor is worth a different amount than the amount calculated by your local or county property tax assessor. Many property tax appeals have been won through the simple inclusion of a quality tractor appraisal.
By knowing what your tractor equipment values are, you can make more informed business decisions that will help keep you and your family on the farm and operating in the black. If you haven't had the opportunity to get a quality tractor appraisal performed by a certified equipment appraiser, it's time to look into it.