Our Family of Companies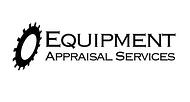 Equipment Appraisal Services
Equipment Appraisal Services is a nationwide provider of certified machinery and equipment appraisals for litigation, bank financing collateral, allocation of assets, divorce and partnership dissolutions, property tax appeals, mergers & acquisitions, gifting and donations, estate settlements, financial reporting, and risk management. The firm has a team of appraisers with the Accredited Senior Appraiser (ASA) and Accredited Member (AM) designations in Machinery & Technical Specialties (MTS) from the American Society of Appraisers (ASA). The firm also provides expert witness reports and testimony for litigation related to machinery and equipment valuation. Equipment Appraisal Services has provided hundreds of appraisals for lenders for financing collateral purposes.
Website: www.EquipmentAppraisal.com
EquipmentAuction.com
EquipmentAuction.com provides a free classified ads section to allow buyers and sellers to list and purchase equipment without any cost.
Website: www.EquipmentAuction.com

Business Valuation Specialists
Business Valuation Specialists is a nationwide provider of business valuations of privately-held companies under $20M in revenue for mergers & acquisitions, buy/sell agreements, purchase or sale of ownership interests, bank financing, and business planning purposes. The firm has multiple appraisers with the Certified Valuation Analyst (CVA) designation through the National Association of Certified Valuators and Analysts (NACVA). The company's roots go back to 2003 when it was part of an advisory firm that represented small business owners in the confidential sale of their companies. After expanding to three states and successfully completing over 100 business transactions, the company shifted from strictly a transaction advisory firm to a business valuation firm to reach a much wider market, both in geography and in scope. Unlike other firms that only have an understanding of business valuation mathematics, Business Valuation Specialists brings real-world knowledge and experience from the trenches.

Website: www.BusinessValuations.net