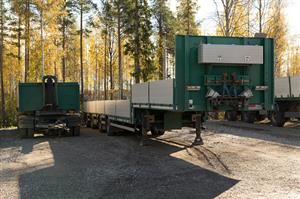 In the first part of this series, we looked at the truck appraisal end of a tractor trailer. But what about trailer appraisal? What does an equipment appraiser look for when determining equipment values in standard, flatbed or reefer trailers? By knowing what is taken into consideration during equipment appraisals, it's much easier to make sure the process goes quickly and smoothly. Here's what is usually looked at when a trailer is appraised:
Valuing a Semi Part 2: Trailer Appraisal
Where are the logs? An equipment appraiser will want to take a good look at repair and maintenance logs, especially on refrigerated trailers and other types that have high-maintenance systems on board. But even on standard trailers, there should be some documentation on the tires, the maintenance that has been done on mechanical systems such as the brakes and similar concerns. Having documentation of these tasks, whether as a log book or a collection of receipts, will show that the trailer has been kept in good condition.
What is the condition? A trailer that has been well maintained will always have a higher valuation than one that has been poorly kept. Why? A trailer that is poorly kept will often fail faster than well kept counterparts. This can have a drastic effect on the value, especially if there appears to be problems with key systems on the trailer.
Kick the tires. Replacing trailer tires can be an expensive proposition, so newer tires or retreads can help boost the valuation of your trailer. But even beyond tread depth, what kind of condition are the tires themselves in? Are there cracks or signs of damage to the sidewalls? Tires in good repair and with decent tread left will help improve your trailer's overall valuation and are another sign of good maintenance of the entire unit.
Over the top wear and tear. Though we've been talking about signs that a trailer has been well maintained, now we're going to look at the other end of the spectrum. A trailer that has been abused will often have a much shorter expected life cycle, lowering its appraised value drastically. This can show up in terms of serious dents, bends in the frame, poorly made repairs, failing refrigeration units, worn or damaged tires, worn or failing brake systems and other areas where the condition indicates abuse and poor maintenance.
Special features. This will depend specifically on the type of trailer that you're having appraised. It can include the cooling unit on a reefer trailer, heavy brakes on nine axle trailers, scrapes or dents on the bottom of a low boy or any other numerous features for non-standard trailers. As with the other features mentioned above, having these features in good condition with evidence of regular maintenance will boost the value, while signs of abuse or excessive wear will decrease the value.
By having a grasp of what will happen during a trailer appraisal, you can use your equipment in a way that protects the equipment values in the long run. If you didn't have a chance to read the first part of this series dealing with semi tractors, please take a look now and you'll know exactly what to expect from the entire machinery valuation process.