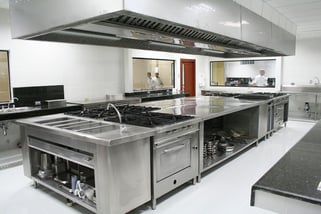 Someone once advised me that when you're in the restaurant business, change is inevitable. This was originally intended to mean the frequent need to shift suppliers, update your menu, and constantly train staff, among other things. Today it means a whole lot more than that, with the goal of survival and long-term profitability at the forefront for many restaurant owners due to the COVID pandemic. Kitchen, dining, and bar equipment, commonly referred to as FF&E (furniture, fixtures, and equipment) can assist restaurant owners with obtaining new capital, restructuring loans, and help expand a growing business.
A restaurant FF&E appraisal will support the value needed for these situations
Restaurant appraisals are commonly requested by banks and other lending institutions for owners, potential buyers and sellers when assessing loan amounts or restructuring existing debt. The value of your overall restaurant business probably has a small amount of that value on the books associated with the FF&E. As long as your equipment has been well maintained and is in good condition, an updated appraisal will most likely support an increase to the tangible asset component of your operation, and will, in turn, increase the overall value of your restaurant.
Leveraging these assets in conjunction with the value of your intangible goodwill can maximize the amount of capital you may be able to borrow in any of these financial situations.
When you are ready to get an FF&E appraisal for your restaurant, always seek out an experienced, accredited equipment appraiser, as their credibility, and that of the valuation firm they represent, goes a long way to supporting the concluded values estimated in the report. Most banks and lending institutions will require a fully documented and researched analysis as part of the valuation effort.
You can ask the appraiser to quote the work either as a visual on-site inspection or as a "desktop" appraisal depending on the level of data you have available for review and your cost budget. You should request the valuation be under a Fair Market Value premise, assuming the restaurant remains in operation, and potentially a more conservative orderly liquidation value if the bank is looking for a "best case, worst case" scenario.
By having a restaurant equipment appraisal performed on your associated FF&E, you can also better determine the overall value of your business if you decide to sell.
When you are ready to move forward on an appraisal of your restaurant FF&E, contact us at Equipment Appraisal Services. Our fully accredited and experienced appraisers are well prepared to provide you with everything you need.