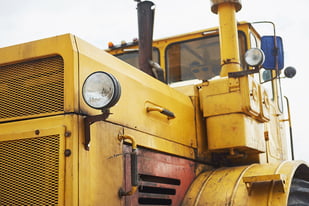 The next set of blog posts over the coming weeks will discuss the various elements of machinery and equipment appraisals and their potential influence on the overall valuation analysis. This week's focus is on normal useful life.
Normal useful life is essentially the estimation of how long equipment will last from the time it is new until it needs replacement or a significant rebuild/refurbishment to extend its service. This is typically measured as a specific number, or within a range of years, such as 10 or 8-12 years.
Determining useful life can assist the appraiser when valuing equipment that is still in its initial usage life cycle and provides a broad perspective of the remaining (residual) value, as a percentage of its original or replacement cost. Appraisers can effectively develop depreciation value curves with useful life as a timeline framework while researching and implementing used market data to create points along the curve for estimating fair market and liquidation values, as well as end-of-life salvage value.
Normal useful life should be viewed as a broad-based component of the overall appraisal effort, which provides a reasonable sanity check to the market data and other cost approach variables that go into the analysis. For example, if you have estimated normal useful life at 10 years, and your other research shows that 5-year-old equipment is being marketed for 40-50% of new cost, which could reveal a consistent pattern from both of these perspectives. If, however, the market data for 5-year-old equipment is 60-70% of new pricing, then your useful life assessment may be too low.
Keep in mind normal useful life is merely a benchmark and represents a single life cycle. Appraisers will often see much older equipment available in the used marketplace that has been refurbished or rebuilt during its life which essentially extends or resets the life cycle for these aged assets. The concepts of "effective age" and remaining useful life, come into play when valuing these older machines. For example, a machine originally manufactured 20 years ago with a 10-year initial normal life may "effectively" be much younger and have a number of years of life remaining, given the refurbishment effort.
It's important to estimate normal useful life and remaining life for both newer and older vintage machinery and equipment as part of an appraiser's overall analysis. Factoring in the market data and other cost approach factors you develop will create a well-researched and supportable valuation.