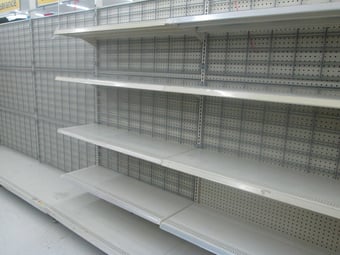 Image source Random Retail on Flickr license
The COVID-19 pandemic has brought with it many unanticipated shifts and changes. Some of the more prominent of these occurring in the global business marketplace include unanticipated machinery, parts, and raw materials shortages in a number of key industries including construction, transportation, automotive manufacturing, furniture, and technology.
Prior to the COVID pandemic, many regional areas, both domestic and overseas, were experiencing a prolonged lack of economic growth, which led manufacturers to slow production across key economic markets. By the latter half of 2020, these same manufacturers began experiencing historically high levels of demand driven by workplace and consumer lifestyle changes creating a supply shortage.
This supply shortage, coupled with an unabated increase in demand, has resulted in significant price increases and backorder delays for many types of equipment, personal property, replacement parts, and raw materials. The providers' costs to purchase and transport these products have increased so dramatically that some are simply waiting for the market to adjust while others are passing these costs onto their clients who have no choice but to pay now or lose out on precious contracts. The growing concern is that this severe imbalance in the market is not going away anytime soon, and manufacturers will therefore continue to be unable to provide a reasonable product delivery timeline for correspondingly reasonable costs.
The resulting impact in the used machinery & equipment marketplace is one that is fairly obvious. Any business looking to sell or liquidate their excess property is able to find a greater number of potential buyers, leading to a material increase in value for their assets, given the immediate availability to sell. This increased demand may be short-term, or more likely, it will last for the better part of 2022, given the slow lag time before new tangible products are more readily available.
If you're considering selling used equipment, parts, or inventory, make sure you can easily replace it, either through the company's existing asset base or with replacement machines that are available at a reasonable price in the market. If you are looking to purchase used equipment or parts, it may be the best option from a deliverable timing viewpoint, however, you may have to increase your budget to reflect this shortage in the market.
From a valuation perspective, an appraiser may or may not take the impact of these market changes into account when completing an assignment. It will come down to the circumstances involved in the overall scope of work effort and their own subjective opinions on the long or short-term effects in the marketplace. Either way, you should look to engage an experienced, accredited appraiser to complete the work.