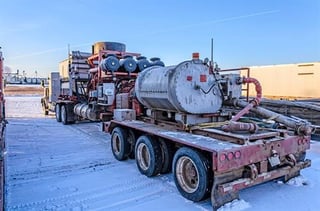 When you're in the oil industry, the changing market means you might be looking at black gold or just a plain crude mess. How can you compete with rapidly changing market conditions? Fortunately, current market projections are looking favorable to the gas and oil industry. But are you in a good position to take advantage of this market upswing? Here are some more details on how an oilfield equipment appraisal can help you gain ground faster.
How an oilfield equipment appraisal helps you compete in a changing market
The past few years have been hard on roughnecks, roustabouts, drillers, operators and just about everyone in the industry. The low barrel prices of the past few years have moved many oil companies from the boom years of the best of Bakken's offerings to the most stripped-down survival mode. Many companies have been bought out by competitors or sold off at auction to the highest bidder - not very high with low oil prices. But if 2016 was a year of making tough decisions, as summarized in a recent Deloitte report, 2017 is expected to be the beginning of the long road back to productivity and profitability, especially following the election of President Trump, who has made strong promises to bring back domestic energy production.
But how can you get there? If your business is like many oilfield companies, you've had to make major sacrifices to get by during the tight years. Equipment that was sold for pennies on the dollar during the worst of times may now have an increased value as the market recovers and begins to climb once again. Having your equipment appraised provides you with a wide range of information beyond the simple price you can expect to receive for it. For example, a good equipment appraiser will look at the overall industry and adjust the equipment's value accordingly. Just as you might see equipment priced sky-high during the peak of a boom, that same equipment may be significantly lower when the market is flooded with used machinery during a severe downturn.
But what else do they look at? What condition is your equipment in overall? Because an experienced oilfield equipment appraiser spends significant time every day looking at equipment, they can often see issues that your mechanics or other personnel may have missed. This in turn allows you to catch problems earlier on, before they become much more expensive problems. Has your equipment been well maintained or has it been abused or neglected? Well-maintained equipment will often last significantly longer and enjoy a higher value than poorly-maintained machinery. This in turn can give you collateral when you need to secure financing for additional expansion during a boom year.
With the expected improvement in the market, having an oilfield equipment appraisal performed ensures that you'll know the value of your assets. This knowledge, in turn, can give you a strong leg up on the competition when it comes to financing additional equipment, operations or manpower. But don't expect that your local equipment dealer is going to just give you an appraisal that represents fair market value.