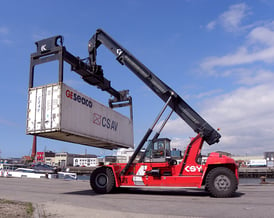 Virtually every business in the world that manufactures, transports, warehouses or otherwise supports any tangible product needs some type of material handling equipment to manage their inventory. It is important to understand the value of these types of assets when considering any financial transaction within your business so you can be sure to get the most benefit from the utilization and strength of these long lived machines.
What Types of Machinery are Considered Material Handing?
The first thing that comes to mind when discussing material handling for most businesses is forklift trucks. Forklifts are the most common type of equipment that falls into the material handling category, however, there is a considerably diverse amount of lift equipment that belongs as well.
Forklift Trucks
Forklift trucks alone have an immensely broad range of sizes, builds, and other specifications which can be overwhelming and fall into different categories of material handling. From the smallest manual pallet jacks to the largest type of container handler, there are hundreds of makes and models in between. From lifting a 500 lb. box to a 90,000 lb. shipping container, these types of assets are critical to effectively moving product from place to place.
The most common types of forklift trucks you see generally range from 3000-15,000 lb. capacities and are used in and around warehouses, loading docks and shipping centers. The lifts can be powered by rechargeable battery, propane gas, or diesel. Several domestic and international manufacturers compete in the industry, many with solid reputations for quality, producing long life durable machinery. Even if you have a 20+-year-old forklift, as long as it has been well maintained throughout its life, you can expect it to hold value over time.
What are Other Types of Material Handling Equipment?
The answer to this question may be a little subjective depending upon the industry or business you work in. I would consider these types of equipment to be included:
Order Pickers
Narrow Aisle Reach Trucks
Automated Pick & Place Retrieval Conveying Systems
Bulk Processing Equipment (Including Conveyors, Hoppers, Elevator Lifts & Augurs)
Pallet Racking, Shelving & Related Storage Equipment
Aerial Boom Lifts
Certain Types of Cranes
Similar to forklift trucks, these assets are typically long lived and hold their value well over time.
In summary, always consider material handling machinery & equipment as part of your asset listing when you need an updated appraisal. When deciding to engage a professional for this task, the best choice is an accredited ASA appraiser.