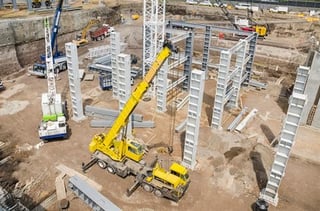 Your equipment is only as valuable as its appraised value, whether you're trying to sell a crane at auction, write off a business purchase on your taxes, or estimate the value of equipment damage. Learn 5 things to look for when selecting a crane appraisal firm or individual who can accurately value your crane.
1. ASA certification
It's always important to make sure that any appraiser you select is certified by the American Society of Appraisers or ASA. The ASA offers a Machinery & Technical Specialties (MTS) designation, which denotes appraisers with particular knowledge of machinery and heavy equipment. When you're getting a crane appraised, look for an appraiser with this designation to enjoy full confidence you're getting an expert on cranes. Additionally, consider an appraiser who belongs to the Association of Machinery and Equipment Appraisers or a comparable organization. Membership in this organization suggests both firsthand knowledge of heavy equipment and professional expertise in its appraisal.
2. Knowledge of heavy equipment
Appraisers specialize in different industries and items. You wouldn't approach a rare books appraiser and expect them to provide an accurate value for your construction crane or vice versa. Never compromise on this point: To obtain a useful value, whether you want to sell your crane or make an insurance claim for damage, you need an appraiser who understands the value of your equipment via firsthand knowledge of cranes like yours. If you hire a general appraiser, they may be able to run an internet search or check in a book to provide a rough estimate of value. However, they cannot accurately account for the value of specific attachments or assess the impact of damage on the crane's utility.
3. Knowledge of the industry
In addition to hiring an appraiser who really knows cranes, it's smart to hire someone who accurately understands your industry. Like real estate, any commodity is only as hot as the market at the time you want to sell. If the construction industry is in a slump, your crane will find few buyers at auction. You may need to sell for less to get rid of the equipment, or hang onto the old machinery until circumstances approve. An experienced appraiser can walk you through the market, industry and timing as they pertain to equipment value.
4. Solid network of contacts
You'll realize the biggest benefit if you hire an appraiser who has a rich network. Whether you need to sell the crane quickly at auction or get damaged equipment serviced, a highly connected appraiser can refer you to the right people. This may make all the difference between selecting an auction house that specialize in heavy equipment -- where your crane will go fast and for a fair price -- and ending up with a bad fit where you don't get the results you seek.
5. Strong communications skills
After all the above criteria have been satisfied, select an appraiser who has demonstrated strong communications skills. It's important to get an accurate appraisal, but it's also beneficial that you comprehend why your crane has a certain value and what factors affect this value. This way, you can understand what maintenance tasks are vital if you wish to sell the crane. An appraiser with good communication skills will be able to break down this information for you in clear language, so you know your next steps.
Once you've found someone who meets all 5 criteria, you can schedule your appraisal with confidence.