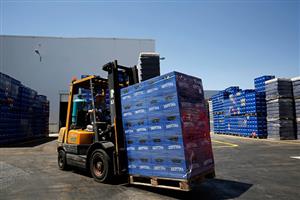 Manufacturers, construction companies, warehouses, distribution centers and many other businesses often rely on material handling equipment to manage the heaviest of loads. This equipment helps in the movement, storage, and control of a company's goods and parts throughout the production and delivery cycles. It speeds up the entire process, reduces labor costs, and enables the safe transportation of items from one place to another.
Sometimes a business will need to sell or physically move the material handling equipment to another location due to a pending sale, consolidation, expansion, or other business transaction. This may require putting a fair value on the equipment for insurance, legal and possible tax purposes. That is when it is time to call in a material handling equipment appraiser who can provide an accurate, legally defensible estimate of the value of the equipment in accordance with the guidelines and Uniform Standards of Professional Appraisal Practice (USPAP). The different types of handling equipment can be classified into four major categories:
Transport Equipment: This equipment moves material from delivery to storage or a work area, between workplaces, and to the loading dock. This might include engineered or robotic storage and retrieval systems, heavy-duty equipment like conveyors, cranes, forklifts and industrial trucks, or manual equipment such as hand trucks, pallet jacks and dollies.
Positioning Equipment: This equipment manipulates materials in one location to make it easier for work to be completed on the item. Some examples would include hoists, tilt tables, balancers and industrial robots.
Unit Load Formation Equipment: This equipment helps to keep a load together in some manner for transport or storage. This type of equipment includes skids and pallets, cartons, bins and baskets, and crates.
Storage Equipment: This equipment is typically found in warehouse environments where materials are stored while they wait to be used in the production process or transported to another destination. Examples of this type of equipment include the various racks, frames, shelves, bins and drawers used to hold goods, stack loads, and provide easy access to parts.
To place an accurate value on the material handling equipment, the appraiser looks at several key factors such as its brand name, age, and adaptability for use in multiple industries. These elements must be balanced against the actual condition of the equipment to accurately determine how much potentially useful life remains in it. When arriving at a fair value, the appraiser might assess an older piece of equipment that has been well-maintained at the same amount as a newer piece of equipment that experienced heavy wear and tear. Accurate maintenance/ repair records and logs of environmental conditions can help tremendously in this phase of the appraisal.
The appraiser will also assess the likelihood of whether a potential buyer will be able to obtain necessary parts to repair the equipment down the road. Any additional features or upgrades might increase the appraisal value as well. In general, the appraiser is trying to determine how much benefit a potential buyer can expect so a dollar amount can be placed on the equipment.
A Certified Equipment Appraisal Report can safely be relied on by potential buyers, banks, lenders, accountants, and attorneys as an honest representation of what the material handling equipment is worth. This can help in making key decisions as to whether or not to invest in buying a particular piece of equipment. If your business is thinking about moving material handling equipment, look for the services of an accredited appraiser.