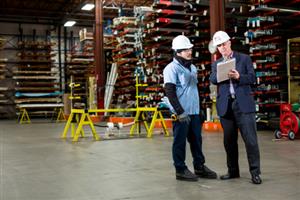 When you're expanding or improving your business, it's important to understand the terms of your financing agreement. With changes in the banking industry since the 2008 recession and bailouts, many businesses are looking at bank financing collateral as a possible option to consider. But how does it really work and will it cause problems down the road for your company? In this post, we'll take a solid look at how equipment appraisals should be a part of your toolkit when approaching bank financing involving collateral.
How does Bank Financing Collateral Really Work?
Banks require collateral as an insurance policy, so that they can regain any losses from a loan default by selling the collateral to make up the balance due. Though immovable assets are typically thought of as assets such as real estate, large equipment that is difficult to remove may also be considered this type of asset. Smaller pieces of equipment or equipment that is more easily moved is considered a movable asset. The bank may require that you provide a high amount or all of these assets as collateral to secure a loan. But at the same time, you don't want to risk any more of your equipment, often the very source of your income, than is absolutely necessary. What can you do to both protect your interests in your business while providing the bank with the financing it needs? One possibility is through an equipment appraisal.
Equipment appraisals are reports prepared that calculate the value of a piece or a lot of machinery. If they're prepared by a certified equipment appraiser, the report will stand up to much higher levels of scrutiny than a report or general quote developed by a dealership or other party. Why? Because a certified appraiser is taught specific, standardized methodologies to calculate the machine's value, a report prepared by them is considered more accurate and reliable than other methods of determining equipment value. These methodologies have been scrutinized in legal proceedings, financial circles, insurance claims and tax agencies and have evolved into a nationally-recognized set of standards - the Uniform Standards of Professional Appraisal Practice (USPAP).
When you have an accurate valuation performed, you have a solid figure you can take to the bank when negotiating the terms of your financing. Because the report has been provided by a certified appraiser, the bank officers know that it's an accurate representation of your equipment's worth. That means that you can choose which piece of equipment you're willing to put into the agreement as collateral and which ones to protect from risk. An accredited appraiser through organizations like the American Society of Appraisers (ASA) with the Machinery & Technical Specialties (MTS) designation must provide unbiased appraisal reports that all parties can rely on.
As you can see, using machinery valuation as part of your process for agreeing to bank financing collateral requirements can help ensure that you're only putting as much of your business assets as are necessary. Using a certified equipment appraiser helps ensure that not only are you getting accurate equipment values, but that the valuation report with stand up to strict scrutiny by your financial institution.