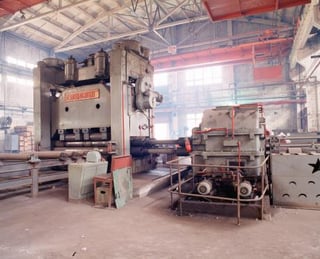 Imagine your business is deeply in debt. You can no longer afford to keep your doors open. You have existing inventory and assets, and you know that by selling these, you can repay some of your creditors. Yet the more pressure you have to sell your assets, the less you can command for them. To understand your options, it's essential you have an understanding of forced liquidation value.
What is Forced Liquidation Value?
Forced liquidation value provides a snapshot of your business in a state of crisis. An appraiser assumes you need to sell as fast as possible, which usually means at auction. Both the rush factor and the auction generally mean that you'll wind up accepting less for the piece of machinery (for example, an air compressor) than you would if you were in no rush to sell.
By understanding forced liquidation value, you can understand where you stand, even when things are going poorly. The data that you receive from an appraiser can then help you decide your next steps.
When performing a company valuation for assets, an appraiser will estimate that your items will sell at auction within a short time frame - say, 90 days or less. They will then add up the perceived value of all items sold via auction to arrive at the business's forced liquidation value. The forced liquidation value gives a minimum worth for the business, assuming the company can sell all assets at auction.
To come up with an equipment valuation, the equipment appraiser must also make a series of assumptions about the auction process. As a result of this series of assumptions, the estimated value is often a big difference from orderly liquidation value and even bigger difference from the fair market value where there is much more time to sell the equipment.
When is Forced Liquidation Value a Good Idea?
Machinery valuation via forced liquidation value usually works to a business's advantage when the company is in trouble and actually needs to get rid of machinery (like the air compressor) quickly.
There is no reason for a healthy business to use forced liquidation value for equipment values, even if the company plans to sell an air compressor at an equipment auction. A healthy business could service or repair equipment before selling it at auction, whereas a company facing liquidation must sell the equipment in an as-is state. For the same air compressor, a company willing to service the equipment or wait for the right time to sell could command a significantly higher price than the company that needs to sell as-is equipment immediately. An exception may be the need to clear out the equipment so that a new line can be installed in the facility.
If you need equipment appraisals for any reason, it's important to find an appraiser who understands your industry and can accurately value your equipment. "Time to sell" is an important concept that needs to be understood and helps explain why an asset may sell for different values.