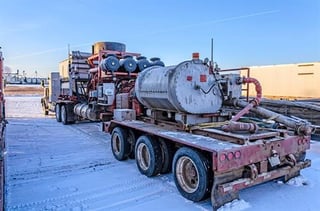 Understanding orderly liquidation value in your equipment is just something most business owners never consider. Why? In general, liquidation is considered by most business owners to be a sign of failure, such as a bankruptcy liquidation. But there are a number of circumstances in which you may need to have an equipment appraiser perform a liquidation machinery valuation that have nothing to do with financial trouble in your business. In this post, we'll take a look at which circumstances may call for orderly liquidation equipment values and why this type of appraisal is used in those situations.
How businesses work: understanding orderly liquidation value in your equipment
What is orderly liquidation value?
Orderly liquidation value falls between forced liquidation value and fair market value in terms of monetary compensation. It's calculated under the assumption that the piece of equipment or machinery must be sold, but that there is a longer period of time to do so, such as a few months. You would receive less than you would at fair market value, but receive more than you would under a forced liquidation.
How is it different than fair market value?
Fair market value assumes that the equipment would fall under normal exposure in the market place before being sold for what is perceived as a fair price to both the buyer and seller. There's no serious time limit on how long the equipment would be offered for sale, so it would be sold for a higher price than in an orderly liquidation scenario.
How can orderly liquidation equipment values impact my business?
When you're getting ready to sell a business, knowing the orderly liquidation values allows you to gain quick cash to help with financing or to provide an additional buffer during the sale process if things don't go as smoothly as you'd like. When you're purchasing a business, knowing these values allows you to relatively quickly sell some of the excess equipment to pay down debts or meet other needs during the process.
In what kind of situations is orderly liquidation value used?
In many circumstances, people involved in a business need to receive money relatively quickly for a number of reasons, but are willing to wait a reasonable amount of time to ensure they're getting more from the sale of that asset than they would through a forced liquidation. This can include the breakup of a partnership, the dissolution of a marriage where both individuals were involved in the business, the sale of excess equipment in anticipation of closing a business sale, an unexpected death of a business partner or similar scenarios. By providing additional time, the party that is leaving the business or their heirs will then receive money for the equipment that is sold without having to either lose out on the machine's value through a quick sale or wait a long period of time for it to sell using conventional methods and fair market value. Banks also often lend based on Orderly Liquidation Value.
As you can see, there are many different situations where understanding orderly liquidation value in your equipment is important to your bottom line. When you need equipment appraisals, it's important to work with an equipment appraiser who is certified, because the certification training process ensures they know which standardized methodologies to use in which situations. Why is that important? Standardized methodologies are developed to stand up to strong scrutiny, including legal, insurance, financial and tax circles. Getting a quality equipment appraisal is vital to your bottom line.