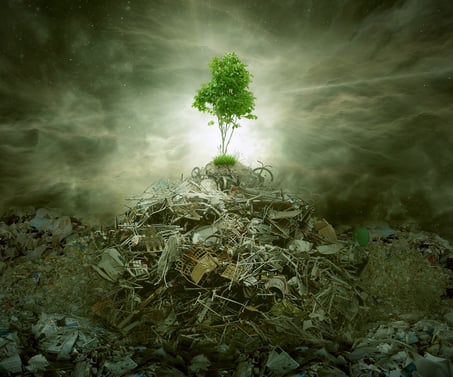 With the changes in today's culture to focus on sustainability, recycling has become a hot business. From LEED construction credits for materials that contain recycled content in them to initiatives to reduce waste in municipalities, recycling businesses are seeing significant growth. But what is the value of that recycling company? A recycling facility asset appraisal can help your business flourish, providing you with information on the value of your equipment. But what equipment is evaluated during the appraisal process and how is it valued? Here's a quick look at the equipment and process involved.
What Equipment is Evaluated in a Recycling Facility Asset Appraisal?
Conveyance equipment: To move your recyclables from one location to another within your facility and to make it easier to load these items for shipping or processing, the equipment that conveys your items around is of vital importance to your business' success. Conveyor belts, hoppers and similar equipment are appraised based on its condition, demand for that equipment in the market and similar aspects that will impact the equipment's value in the market.
Material handling equipment: Beyond simple conveyance, some material must be handled with other equipment. This can include a range of items, such as pallet jacks, forklifts, loaders and similar machinery, which is used to haul and load bales, hoppers, pallets and other types of storage for the material you're recycling. This type of machinery can often be used in other industries, therefore the equipment's value can be influenced by its popularity in those industries, so understanding the factors that can influence that value is of vital importance to the financial health of your business.
Sorting equipment: To keep your operation running efficiently, you need sorting equipment that will quickly and effectively sort one type of recyclable from another, which can happen based on weight, type of content and similar properties so that you can get those recyclables to market with very little contamination in your batches. The accuracy with which this type of equipment can sort materials, the condition of the equipment and the amount of material it can handle within a set period of time can all impact the overall appraised value of the equipment as demand for that machinery and the recyclables it sorts rises and falls.
Packaging equipment: The machinery that packages your equipment into larger quantities and makes it easier to handle, load and transport helps keep recyclables moving throughout your facility. Balers, compactors and related machinery are a vital part of your business, the loss of which can create serious problems for your company. Though these pieces of equipment can be used in other industries, some are too specialized for use outside the recycling industry, so understanding which types of equipment can be used in which situations is important to determining the value of the machinery.
By having a recycling facility asset appraisal performed, it provides you with solid information about the value of your business' equipment assets. However, it's of vital importance that the valuation is performed by an accredited equipment appraiser, because doing so ensures that the valuation that is calculated is free of other influences. An accredited equipment appraiser is able to provide you with an independent third-party opinion on the value of your equipment, without being interested in the outcome of that valuation.