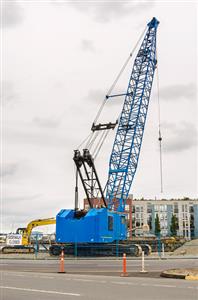 If you have heavy construction equipment that you no longer need, selling that equipment at auction makes a lot of sense. Because auctions attract a lot of buyers, they are quick places to sell your equipment, compared to trying to sell something like a crane on your own. Finally since the auctioneer mediates the process, selling your equipment at auction can be less stressful for you. To prepare your heavy equipment for auction, it can be essential to have equipment appraisals done. Learn more.
Why Have a Crane Appraisal Before Auction
To understand the benefits of heavy equipment appraisals before auction, think about it from the buyer's perspective. A buyer is visiting an auction in hopes of getting needed equipment at a great price. They may be shopping on a budget, but still want to get a good piece of equipment.
Appraisals can also help shoppers compare like items. If your crane is more powerful than others on auction, the appraisal can indicate this. If you really want to move your construction equipment, an appraisal is one additional piece that can make your piece stand out.
Some buyers may be new to the auction scene. These buyers in particular may be hesitant about purchasing used equipment at auction due to not knowing what the market brings for the typoe of equipment. When they can view an appraisal, and see an independent valuation of that crane by an expert, it can provide them with useful knowledge. This can help them bid with confidence.
While a crane appraisal benefits the buyer, it also benefits you. If you are ready to sell a crane at auction, you probably need the money for other purposes. In this case, it's better to sell the item quickly, even if you get a little less than you hope, than to hang onto that crane for months. Time you spend trying to sell the crane yourself takes time away from needed tasks.
An auction allows you to sell your crane quickly so you can move on to other things. Getting that appraisal done can increase the likelihood that you sell the crane at auction because you will have an idea of what it may sell for.
How to Find Heavy Equipment Appraisers
When you are preparing to have a piece of machinery appraised, it is critical that you find a certified appraiser. If the appraiser you hire is not certified, the report may not meet the Uniform Standards of Professional Appraisal Practice (USPAP). Appraisers that follow USPAP provide unbiased opinions of value.
Look for an appraiser who is certified and has performed construction appraisals in the past. This person will be familiar with the best ways to take the value of heavy equipment like cranes.