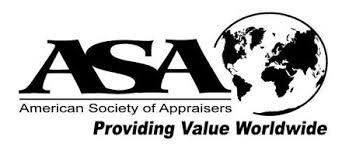 When you're considering having your equipment valued, do you know what kind of appraiser you should work with? Though you could work with anyone who had a general knowledge of machinery values, that may not be your best bet. The American Society of Appraisers has spent decades developing methodologies that have been proven in a wide range of real-world situations, and that knowledge is reflected in every ASA accredited machinery & equipment appraiser they certify. Here's a look at the reasons why you should only work with an ASA certified appraiser.
Why should I work with an ASA accredited machinery & equipment appraiser?
When you need an appraisal performed on your machinery or equipment, do you know whether the appraiser you contact is certified? Though it's not the first question most clients ask of an appraiser, it's a very important one with regards to the accuracy of your final valuation report. The certification process provides an appraiser with the background education, knowledge and experience to help ensure they're accurately valuing your equipment. As an appraiser is certified, they receive a specific amount of education in both how appraisals are performed as well as which situations demand specific calculations and methodologies.
The most common accreditation program is from the American Society of Appraisers, or ASA. As one of the leading professional organizations for appraisers, the program they offer for accreditation uses the methodologies that its members have been using for decades. This means that reports generated using these methodologies stand up well to strong scrutiny. But in what situations is this really important?
Almost everybody has heard of a situation where a business is dealing with an insurance company, a lawsuit, a tax agency or a financing company where the value of an asset has been questioned. Though most people know that there's an appeals process in most of these situations, they don't bother to pursue this avenue because they don't know how else to prove the value of the asset. That's one of the best places where an ASA accredited appraiser's report can benefit your business or situation.
Because reports generated by accredited appraisers use the same standardized methodologies that have been used for decades, the report is viewed with higher regard than one developed by your local equipment dealer or similar appraisal approach. These types of appraisals have been tested in court cases and often have made a big difference in the outcome of the case. In insurance claims, it's not uncommon for adjusters to make an incorrect valuation because they don't specialize in that type of machinery. In financial and tax circles, an appraisal report can help prove a piece of equipment's value.
When you work with an appraiser, the information you receive can help prove the value of your machinery, but the information is only as strong as the methodologies that are used to calculate that value in the first place. By working with an ASA accredited machinery & equipment appraiser, you're ensured that the valuation report that you receive is accurate and will hold up well to strong scrutiny in a variety of situations. Make sure before you get started with an appraiser that they are certified to ensure you're getting your money's worth out of the valuation report you receive.