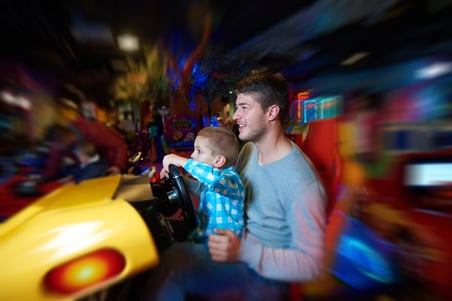 When your life's work is based around providing an amazing place for families to have fun, your focus is on building your business and keeping people coming in the doors. But when you're focusing on growth, have you considered the value of your business assets into the equation? Whether you're considering upgrading your arcade games, adding some landscaping equipment to your fun farm or upgrading your cleaning equipment to keep things fresh and sparkling, knowing the value of your equipment can help you make smarter business decisions. Here's a look at the kind of equipment a family entertainment center asset valuation can cover.
What's Covered During a Family Entertainment Center Asset Valuation?
Games: Whether it's the machinery that is the backbone of your bowling alley, a few video games on the way through or a whole complex of carnival-style games, you've put a lot of money into these entertainment assets. An accredited equipment appraiser can properly calculate the estimated value of this equipment, making it easier to decide when it's time to replace a less-popular game or one that's beginning to show signs of aging.
Facility Maintenance Equipment: Keeping your facility clean and looking great is an important part of how your business is viewed in terms of public opinion, which in turn can drive more - or less - business in your direction. Knowing the value of steam cleaners, landscaping equipment or floor buffers allows you to get a fair deal when it's time to replace them for an upgraded model.
Kitchen Machinery: Maybe your business has a snack bar, or it could be a full-scale restaurant that feeds hungry families during a busy day of making memories. No matter the level of complexity or size, an equipment valuation can include your kitchen and restaurant equipment, making it easier to decide if it's time to switch out your soda fountain machinery or if you should focus on a new refrigerator instead.
Computers: If you're still working with an older system, you've probably considered whether it's time to change it out for a tablet-based system that provides more options. But how will you know when it's time to make the change based on your current system's value? Having an appraisal done will make it easier to decide, because you'll know what your current system will bring in when it's sold.
Security Assets: With the situations families can face these days and the lowering cost of security features, many family entertainment centers have added cameras, trackers and sensors to help keep their patrons of all ages safe and sound. But those assets have a value that can be leveraged when it's time to make upgrades to your facility. Knowing what those assets are worth can make it easier to document your company's value.
By having a family entertainment center asset valuation performed on your business' equipment, you can gain a much better idea of what your equipment is actually worth beyond simple, standardized tax depreciation. However, it's important that you work with an accredited equipment appraiser to ensure you're receiving an accurate estimate of your equipment's value from an independent third party. Make sure you ask your appraiser about their accreditation at the beginning to ensure you're getting your money's worth out of your appraisal.