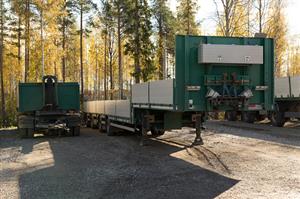 Whether you're in logistics, manufacturing, shipping, construction, agriculture or some other industry that requires the movement of large equipment and quantities of material, the assets that you use to move those items are of paramount importance to your business. What would you do if those vital resources weren't available? If you think that your business insurance would cover losses, you're right, but at what cost? By knowing the value of your trailer fleet, you can improve your chances of getting a fast, favorable resolution to a number of potential issues. A commercial trailer fleet appraisal provides you with the information you need to leverage those assets to your company's benefit. Here's more about the different types of commercial trailers available on the market and how they're appraised.
What Type of Commercial Trailer Fleet Appraisal is Available?
Let's start by looking at some of the differences between commonly-available types of commercial trailers:
Box trailers are one of the most common types of trailers, consisting of a box that is permanently affixed to the base. This type of trailer provides protection to the materials or goods being transported.
Grain trailers contain special valves underneath the trailer that can be opened to allow grain or other dry food materials such as soybeans, to flow out at the grain mill, allowing for easy unloading.
Tanker trailers carry a wide range of liquids and gasses, such as diesel fuel, milk, anhydrous ammonia and similar materials. They must maintain a strong, sealed compartment to avoid contamination.
Livestock trailers allow stock to be moved from the farm to the feedlot to the processing center. They are ventilated to allow for fresh air to be circulated to the livestock and are often sized to specific species of animals.
Refrigerated trailers are insulated and have separate climate control systems and on-board fuel supplies for those systems. This allows refrigerated or frozen food to be safely transported between locations.
Flatbed trailers provide easy options for loading and unloading, as forklifts can simply place or remove pallets of material from the trailer. They do not provide a great deal of protection to the materials they are hauling.
Vehicle trailers are designed to allow a number of vehicles to be hauled by a single semi, with an assortment of hydraulic rams in place to raise and lower different decks during loading and unloading.
Equipment trailers are specifically created to carry heavy machinery, such as backhoes, bulldozers and other equipment. It's designed both for the heavy weight of the equipment as well as the bulky size of the machinery.
Cargo trailers are designed to be fitted with cargo containers from shipping, whether by ship or rail. This type of trailer allows goods to be transported without additional handling of the material inside, lowering overall logistics costs.
By having a commercial trailer fleet appraisal performed on your company's assets, you'll have documentation of value for a wide range of purposes. However, to gain the most benefit from your appraisal, you'll want to make sure that the process is carried out by an accredited equipment appraisal specialist. The methodologies used by accredited appraisers have been tested over and over again in legal, financial, insurance and tax circles, providing you with a solid estimate of value that is free from outside influences.