PRESS RELEASE
Youngstown, Ohio --- EquipmentAuction.com, LLC today announced the start of the sale of 19 industrial robots currently utilized at the Honda of Canada automotive assembly plant in Ontario, Canada.
This week celebrates the sixth annual National Robotics Week, a special week designed to educate the public about how robotics technology provides an important impact on society. Leading universities and companies have come together to promote the benefits of robotics. In conjunction with this week, these robots are being made available to the general public for purchase. Currently utilized by Honda, the robots are fully equipped and can be relocated for use in educational or other industrial facilities.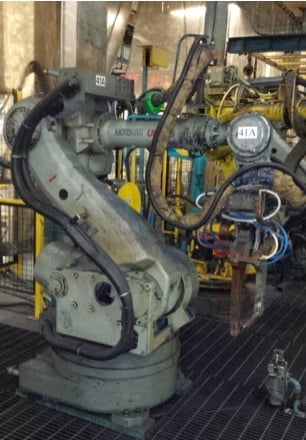 The available robots include Yaskawa Motoman models UP60, UP120, UP130, UP165, UP200, K300, and SK16. In addition to the robots, there is miscellaneous material handling equipment available.
The online auction is currently underway and runs through April 30, 2015. It is in the form of an "absolute auction" with no buyer premium.
Companies looking for used equipment from a world-class manufacturing facility are encouraged to sign up as registered bidders, view, and bid on the available lots at www.EquipmentAuction.com.
About EquipmentAuction.com, LLC:
EquipmentAuction.com is an online
equipment auction
mediation company that provides a marketplace for machinery & equipment buyers and sellers. Through its sister company, Equipment Appraisal Services, the company also provides machinery and
equipment appraisals
for accounting, banking, and legal purposes for both public and private companies. For more information about EquipmentAuction.com, please visit www.EquipmentAuction.com. For more information about Equipment Appraisal Services, please visit www.EquipmentAppraisal.com.