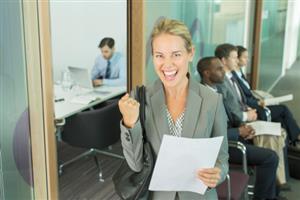 Whether you're considering opening a new business, expanding your operation or dealing with a temporary cash flow issue in your business, qualifying for bank financing is a big part of the picture to your business' financial success. By having current equipment values for your business machinery, you can help document your business' assets and back up the figures on your balance sheet. Getting equipment appraisals on used machinery you need to expand your operation proves the equipment value and amount needed for your financing without a lot of run-around and repeated effort. Here are 4 ways having a machinery valuation completed before you start the process can ensure you have the bank financing collateral you need for your business loan.
A machine appraisal provides verification of your business' existing assets. If you have existing equipment that has been paid off or is in the process of being paid off, the bank can use the information provided by a machine appraiser to determine how much equity you have in your existing equipment. It also shows the current value of the machinery you already have in use instead of relying on a pre-determined depreciation schedule that may not show an accurate picture of your business' financial health.
A machinery and equipment appraisal proves the value of the machinery you're purchasing. When you're buying used equipment, it can be difficult to find a single definitive source of machinery value that covers your exact equipment and any modifications that have been made to it. An equipment appraiser makes their living studying equipment values for bank financing collateral, so having a machinery appraisal or valuation completed helps provide a solid number for the bank to base its decision.
An equipment valuation can provide needed information to your insurance company so that your policy can be updated to cover your equipment acquisition. A bank wants to know that if you have a warehouse fire, the machinery they're financing has been protected. Equipment appraisers provide reports with specific information needed by your insurance company to fully cover the equipment you're purchasing.
It's necessary in many cases for securing an Small Business Administration loan. With the economy still recovering, many businesses are still recovering their credit history, making them too high a credit risk for many bank financing collateral situations. Because it's much easier to pick up a loan that the SBA is backing, it's important to ensure you can meet the SBA's requirements for a small business loan whether you're just starting out, expanding your company or to help with a temporary cash flow situation.
By keeping these circumstances in mind, having a machinery and equipment appraisal performed by a qualified machinery appraiser will make your bank financing collateral process go much more smoothly. Make sure you use a certified equipment appraiser using the Uniform Standards of Professional Appraisal Practice (USPAP) and is a member of the American Society of Appraisers (ASA) to ensure that your financial institution will accept their equipment appraisal for your loan.