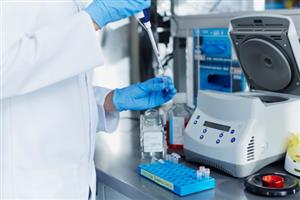 There are many types of labs which form an integral component of the manufacturing, research, and business world. Some are looking for new ideas or testing possible advances, while others are used to search for diseases or verify production processes. Whatever the purpose, these labs are all equipped with a variety of specialty equipment such as analytical instruments, glassware, microscopes, optics and photonics equipment, a mass spectrometer, centrifuges, and more. A laboratory equipment appraisal is often required to place a fair market or insurance value on these assets. Some of the many situations where these equipment appraisals might be needed include:
Asset sale: According to the Global General Laboratory Equipment Market Report 2014-2018, the market is expected to grow at a compound annual growth rate (CAGR) of 10.75% during the period from 2013 to 2018. Included in this estimate are reagents and kits and chemicals, as well as instruments and equipment. The need for automation, however, has to be balanced against economic factors, especially for those institutions associated with academic or governmental research. Those that need to purchase equipment may be looking for used equipment because they are dealing with restricted budgets, while labs which are purchasing new equipment will want to sell their current inventory to make room for the new. If the lab owner wishes to sell the assets, the first step is obtaining a laboratory equipment appraisal to make sure that the equipment is offered at the highest price possible, given current market conditions. For individual pieces of lab equipment, an online equipment auction allows owners to sell their equipment with maximum exposure by combining assets with like items from other participants.
Business sale: A profitable lab may be sold off as an independent operation, or it may be sold as part of a complete business package. In either case, an equipment appraisal is needed to justify the highest purchase price possible.
Bank and SBA financing: Labs are frequently in need of financing to purchase raw materials for long-term experiments, expand research capabilities, or upgrade existing equipment. Bank or SBA loans for these purposes may require some type of collateral, which could be the existing lab equipment. A professional equipment appraiser can establish an equipment value that might make the lending authority feel more comfortable about providing the requested amount.
Legal proceedings: From time to time the lab might be involved in some type of legal proceedings such as a partnership dispute or divorce litigation. Equipment appraisers help the lawyers and litigants place a realistic value on the business so that all parties are treated fairly.
Insurance: It might be difficult to replicate all of the existing reports or experiments if some type of accident or natural disaster occurs in the lab. There might be a certain value on a medication that was close to being introduced in human trials, or a water quality testing facility could lose years of results. An insurance valuation may include both a tangible machinery and equipment appraisal, as well as the intangible benefits of the any ongoing experiments and research.
If your business needs a laboratory equipment appraisal for any reason, make sure the report is assembled and reviewed only by an accredited equipment appraiser. These professionals are experienced and well-trained in providing accurate equipment appraisals. If the appraisal report is not in compliance with Uniform Standards of Professional Appraisal Practice (USPAP) guidelines, it is not a "qualified appraisal," and will not hold up to scrutiny by buyers, the IRS, courts, or lenders.