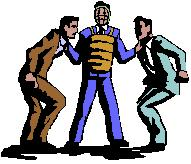 Business assets are treated much the same way as personal assets when going through a divorce. An equipment appraisal will be necessary to determine the fair market value of the equipment. When dividing assets there needs to be a method for determining what value you are dividing with your spouse. The court accepted method is to have an appraisal of the business assets completed by a certified appraiser, which will establish what value will be used when distributing the assets. An equipment appraisal will be a means of proving the true value of the tangible assets and provide a solution to conflicts that may arise.

An appraiser will gather information about the equipment at the business in much the same manner real-estate appraisers record information to be used in determining the value of your home. The appraiser will go to the business location(s) and record make, model, serial numbers, as well as condition of all items to be appraised. This information along with a series of pictures taken of the equipment will be used to research and determine a current fair market value. At times, the appraiser will also need to determine orderly liquidation and/or forced liquidation value.

All relevant parties can mutually agree to use a single equipment appraiser or work with separate appraisal companies.

Parties need to be careful on the appraiser that they select for the valuation. If the appraiser is not a certified appraiser conducting the research and report under the Uniform Standards of Professional Appraisal Practice (USPAP), there may be a number of flaws in the courts eyes. If the appraiser is a dealer with the ethical requirements of reporting unbiased opinions of value, then the opposing attorney will have a field day during cross examination. Also, if the appraiser does not have experience in testifying in court, then there is the possibility that they will not maintain their cool or provide thorough responses to questions about their work. Though experienced and credentialed equipment appraisers who provide expert witness services will often be more expensive than others, their fee is typically a fraction of the overall value of the business assets. As the saying goes, you typically get what you pay for.