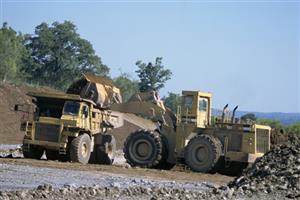 When you own heavy equipment, knowing the equipment value is an important part of your business' financial situation. But what does a machine appraiser look for when they're performing a heavy equipment appraisal? In this post, we'll take a good look at what details an equipment appraiser looks at during a machinery and equipment appraisal and how it affects your equipment values.
Excessive Wear That Doesn't Match the Meter Hours
When an equipment appraiser is performing equipment appraisals, one of the biggest signs that something may not be right with the equipment is when there's wear on the machine that is far too excessive for the hours shown on the meter. Much like an odometer reading that shows very few miles on an old, beat-up vehicle, a mismatched amount of wear compared to the amount of hours on the meter is often a sign of tampering. This raises a red flag for most appraisers performing a heavy equipment appraisal and can lead to a much lower appraisal. If you have equipment that has excessive wear, documenting what has happened with the machinery will help the equipment appraiser get the whole story and value the equipment accordingly.
Legal Title Issues
When a machine appraisal is taking place, one of the areas that is looked into is the title for the machinery being appraised. Because issues with the title can affect your ability to sell the machinery or legally claim financial rights on the equipment, it's an important part of the appraisal process. A title that has the wrong name, a co-owner who is not part of the business or other legal issues can impact your ownership of the machinery, which means that you can't depreciate it in your accounting. A salvage title can raise questions about whether the machinery can be safety operated or if there is hidden damage or other problems that could affect its value. If there's any possible way to clear up any title issues prior to your heavy equipment appraisal, it will help the process go more smoothly.
Poor Maintenance or Nonexistent Repair Records
When you own machinery and times are difficult in your industry, it's often less expensive to repair or maintain your equipment on your own or put it off instead of hiring the work out. But a lack of maintenance, incomplete repairs or nonexistent records can make it appear that the machinery has been neglected and will often devalue the equipment. If you can document the maintenance or repairs you've done on your machinery, including any receipts for supplies or parts, you can help avoid this potential appraisal pitfall.
Excessive Abuse
This is different than the excessive wear mentioned above, because it's a sign that the machinery has been abused and may have been taken well beyond its safe limits in daily use. Machinery that falls into this category can include serious dents in the body panels, welds, bends or cracks where the machinery has been taken well beyond its original specifications or rips, cracks and tears in the cab and safety equipment that compromises operator safety. By taking the time to properly train your workers and stay on top of any repairs or safety issues, you're ensuring that your equipment will receive a great appraisal value.
If you're ready to have a heavy equipment appraisal performed on your machinery, take a few minutes to get your records together and make sure any needed repairs or maintenance is performed. Then contact a qualified machinery appraisal service to get a quote