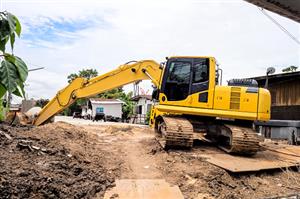 When you're considering buying or selling a piece of equipment, it can seem as though there is a world of difference between the price you expect and the price that's paid. Why is there such a difference in machinery valuation? Though we expect differences in price based on condition, age, location and similar properties, there can still be drastic differences in equipment values for virtually identical equipment, depending on the situation. Let's take a look at the differences in equipment value and why this happens.
Appraised Value
In the complex world of machinery and equipment appraisal, an appraised value is the most accurate indicator of the equipment value across the board, but doesn't always take into account issues such as local market conditions or an individual's motivation to buy or sell a particular piece of machinery. A machine appraisal involves having an equipment appraiser thoroughly examine the machinery and take into account any mitigating factors, such as modifications, kits or accessories that were added after the initial manufacture of the equipment. An appraised value is vital if you need to get financing on the equipment or are considering donating equipment with a value over $5,000. If you don't have equipment appraisals completed, you may not be able to finance the piece or write off the full value on your taxes.
Market Value
Beyond the value assigned by equipment appraisers, there's also the difference you'll see in the local or regional marketplace. As everyone learns in economics, this value is strongly tied to the laws of supply and demand. If you're in an area where a lot of construction is needed following a hurricane, you may pay a high premium to purchase equipment locally. If, on the other hand, you wait until the vast majority of the construction has been completed, you may be able to take advantage of lower market values because the market is suddenly being flooded with a lot of surplus equipment.
Offered Value
Adding even more complexity to the problem is the concept of offered value, or the motivation a seller has to lower or raise the price, depending on what their needs are. If a business has some surplus equipment but has the space to store it inexpensively or are taking advantage of an item that's hard to come by, they may ask a higher price than they would normally, waiting for a buyer who will maximize the money they're making off the deal. On the other hand, a business that is in a serious cash bind may be willing to let the equipment go for a lower amount than the machine appraisal would suggest. But beware - if a price seems too low, you may want to have an independent appraisal done to ensure that you're actually getting what you pay for. The machinery could have issues that are being covered up, such as an oil or hydraulics leak, that a trained equipment appraiser would be able to spot, saving you from expensive repairs.
In any of these situations, having a solid appraisal to back up machinery valuation helps protect your interests by justifying your price when selling and allowing you to negotiate when purchasing equipment. Make sure you use an appraiser accredited through the American Society of Appraisers and follows USPAP (Uniform Standard of Professional Appraisal Practice).