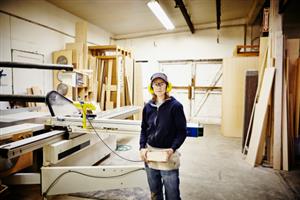 Whether you just play around on the weekend with some quality woodworking tools or are a dedicated professional woodworker who has spent years developing your craft and investing in only the best quality equipment, having a professional machine appraiser provide an in-depth woodworking equipment appraisal means you know what you have and what it's worth when it's time to trade, upgrade or collect damages from a shop disaster, especially as growing demand in this $710 million plus annual industry is expected to continue growing at a rate of 3.4% over the next five years. Let's take a good look at how a machinery and equipment appraisal helps you protect your investment.
The Equipment Appraiser
To properly protect your equipment, you'll want to make sure you're dealing with American Society of Appraisers credentialed equipment appraisers using the Uniform Standards of Professional Appraisal Practice. Hiring an appraiser for a machinery valuation who is not certified means the report produced may not be accepted by insurance companies if you suffer a loss.
Equipment Appraisals Process
The appraiser will take a good look at your machinery, both as it sits and in operation. He or she will take note about the manufacturer, the model, any features it has, any additional kits, upgrades or modifications that have been added, how well it runs and if there are any areas where it needs repair or maintenance that affects its performance or equipment value. All these details tie in to the final machine appraisal report that is prepared.
What Your Woodworking Equipment Appraisal Helps With
So what can you do with that shiny new equipment appraisal? Provided that it was obtained using a an ASA-certfied appraiser and USPAP standards, it can give you real insight into where your equipment values stand and prove the value of the equipment to your insurance company if you suffer a fire, tornado, earthquake or other damaging event. It provides documentation of its worth when your tools have been assessed way too high by your local tax assessor. If you're getting ready to go professional and need to secure a business loan, it helps prove the collateral value that's available to the financial institution you're using, and then provides an accurate valuation for tax and accounting purposes later on. A quality equipment valuation provides a starting point for negotiations if you're selling some of your equipment or trading it in for an upgraded model.
What an Equipment Appraisal Won't Do
There are, however, limitations to what an equipment appraisal will do. It won't make your 1963 off-brand table saw suddenly worth $5,000 - unless, of course, it is actually worth $5,000. It won't lower your tax assessment if the assessment is accurate (it's up to you whether you mention it to the tax assessor if your assessment is too low). It may or may not put your kids through college, but if you could afford to spend a college-education's worth of money on woodworking tools, you're probably a good enough woodworker to be able to send your kids to school without selling your hard-won tools. You get the picture.
Having a quality machine appraisal performed on your woodshop tools is a great way to know exactly what you have and what it's worth, whether it's for business purposes, tax accounting, insurance use or just to know what it's really worth. Schedule an appraisal today to protect your investment.