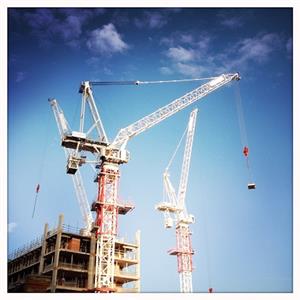 When you're getting ready to sell your old crane, buy a new-to-you crane or get a heavy equipment appraisal, what kind of things affect your machinery valuation? From the good to the bad and the ugly, let's take a solid look at things that can affect a crane appraisal.
Good: These Items Typically Increase Equipment Values
Options or kits that are approved by the manufacturer or designed based on the machine's specifications. Because the additions have either been approved by the manufacturer or are designed for that specific crane, the equipment appraiser knows this is a value-added item rather than one that can cause more problems down the road.
Exceptional maintenance that has been well documented. Equipment appraisers know that well-maintained machinery will typically provide excellent performance down the road and has not been abused on the job site.
All systems are functional and in good repair. You wouldn't buy a truck to go off-roading in if the four wheel drive wasn't working, would you? A crane appraisal needs to show any problems with the crane, including items that haven't been repaired or that are on the verge of failing.
Bad: These Items Typically Decrease Equipment Appraisals
Lack of maintenance logs. You might have done the work you've claimed, but can you prove it? An appraiser has to assume that proper, timely maintenance and repairs were not undertaken unless there's documented paperwork showing the work was done, even if it's only a parts store receipt because you did the maintenance in-house.
Welds, bends or cracks. These are signs that the crane may have structural damage and could cause serious safety issues down the road. You wouldn't buy a crane if you had to worry about a wrecking ball falling on the cab, would you?
Dents, badly scraped or scratched paint and other signs of abuse. Though these may not directly impact the functionality of your crane, it does show shoddy upkeep at best and terrible abuse at the worst. Paired with other problem signs, this tells an appraiser that your crane personnel weren't properly trained or were lazy or negligent in how the crane was being operated.
Ugly: These Items can go Either Way
New bodywork and paint. Sure, it looks great, but what's it covering up? Unscrupulous sellers will do a quick job of cleaning up an abused crane to make it look nice, even when it's been all but torn to pieces in the field.
Wear that is not reflected in the number of hours on the machine or a broken meter. That crane may show 3,000 hours, but if the controls are beat up or there's wear on the outriggers that suggests much more time in the field, there's a good bet that something's not right. A broken meter is often viewed in the light of missing maintenance paperwork - not proof of guilt, but definitely suspicious.
Paperwork that is . . . mostly . . . clear. Whether it's a salvage title, something off with property tax receipts or similar paperwork, bad paperwork is a legal headache waiting to pound your temples together.
By knowing what a machine appraiser is looking for when completing your crane appraisal, you can easily get everything together that's needed to ensure you receive an equipment value that is fair for your crane. It also makes the process go smoothly and more quickly when you have everything that will be needed close to hand instead of buried in a random box of receipts in your office or attic.