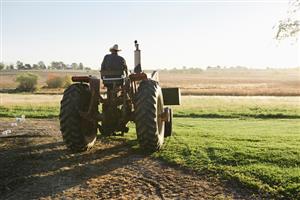 Think about how much it would cost you to buy a riding mower to cut the two-acres of grass around your house. For a farmer, who may have a 100-acres or more of land to tend to, the machinery needed to cut, plow, plant and irrigate, might cost 10, 20, or even 100-times as much as the $2,500 riding mower you use to keep your lawn looking good.
While you probably don't think about equipment value when you are out plowing the fields, there are many times when knowing equipment values is of the utmost importance. Take a look at these five different situations where a farm equipment appraisal might be useful.
1. You're a farmer interested in buying a used piece of equipment
Properly maintained farm equipment can last for many years. It is often a wiser use of your money to invest in a solid piece of used farm equipment instead of paying a higher price for new equipment. Hiring an equipment appraiser to do a farm equipment appraisal can help you make the right decision over whether to buy new or buy used.
2. You want to sell a tractor and don't know what to ask
Just like people have different opinions of what their cars are worth, the same holds true for tractors and combines and other types of expensive farm equipment. Although it may sound strange, many farmers love their tractors almost as much as they love their kids. Even though they know that the smart business decision is to get a newer and more powerful tractor, they don't really want to let the old tractor go. So, they put an unrealistically high equipment value on it and it does not sell. If you really need to sell your old tractor so you can afford to buy the new one you need, an objective machine appraiser can help you set the price for a quick sale possibly in a farm equipment auction.
3. You want to insure your farm equipment
Equipment appraisals are often done to establish a value for insurance purposes. It is unlikely that you will be able to find an insurer who will offer you replacement cost coverage at a reasonable premium on highly depreciated equipment. No insurance company is going to insure your farm equipment for $1,000,000 if the fair market value is only $200,000. At the same time, as the person paying the premium, you need to know the fair market value because you don't want to buy more coverage than you need.
4. Find out the Real Replacement Cost
If a light bulb burns out you know it will only cost about $5 to replace. If you need a new washing machine, you can expect to pay around $500 for a decent new one. But how could you calculate the cost of replacing an irrigation system you installed 10-years ago? A machine appraisal of an irrigation system would not only include the pump and any above-ground sprinkling system, but it would also include the thousands of feet of underground piping. An appraiser would calculate the cost of the new equipment, the labor to remove and replace the old system, and just for good measure, the economic impact it would have on your ability to productively operate your farm.
5. If leasing, should you exercise the option to buy?
Expensive farm equipment is often leased. Just like when you lease a new car you usually have the option to purchase the farm equipment at a specific price that is shown in your lease agreement. The decision to exercise that option usually comes down to the remaining value of the machinery. If you have properly maintained the equipment and not run it into the ground, it may be worth significantly more than the price at which you can buy the equipment. A farm equipment appraisal near the end of your lease can help you decide the best course of action to take.