Position Openings at Equipment Appraisal Services
Machinery and Equipment Appraiser
An accredited machinery and equipment appraisal professional with experience in preparing Uniform Standards of Professional Appraisal Practice (USPAP) compliant reports and expert witness experience related to equipment valuation is needed.
We are looking for a detail oriented individual who is passionate about valuing machinery and equipment.
The professional will be responsible for completing projects in their entirety from letter of engagement to completed report. Some travel will be required. Qualified candidates must have strong analytical and report writing skills and be extremely comfortable using Microsoft Excel and Word. Candidate must also be extremely detail oriented and efficient in doing both internet research and cold-calling.

Candidate must currently have one of the following designations: AM (Accredited Member) or ASA (Accredited Senior Appraiser) from the American Society of Appraisers in Machinery and Technical Specialties.

Please send your resume and a cover letter explaining your experience and why you are the right person for this job to: Info@EquipmentAppraisal.com
Position Openings at Our Other Companies
Machinery and Equipment Online Auction Manager (EquipmentAuction.com - www.EquipmentAuction.com)

Experienced professional in machinery and equipment online auctions is needed.
As a member of our team, the individual will be responsible for working with businesses in consigning their equipment for sale in our online marketplace. The individual will also work with other professionals related to corporate liquidations. This position requires the individual to cultivate leads and build relationships with potential and existing clients. It also requires the individual to work closely with the appraisers of our sister company, Equipment Appraisal Services.

The individual must have strong computer and communication skills. Proven experience in regards to machinery and equipment negotiations, specifically related to consignment sales in timed online auctions, is a must.

Please send your resume and a cover letter explaining your experience and why you are the right person for this job to: Info@EquipmentAuction.com
Business Valuation Professional (Business Valuation Specialists - www.BusinessValuations.net)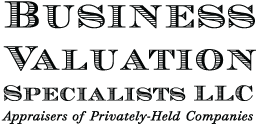 An accredited business valuation professional with experience in preparing Uniform Standards of Professional Appraisal Practice (USPAP) compliant reports and expert witness experience related to divorce litigation is needed.

We are looking for an individual passionate about business valuations.

The Business Valuation Professional will be responsible for completing the entire project from letter of engagement to completed written report. Some travel will be required. Qualified candidates must have strong analytical and report writing skills and be comfortable using Microsoft Excel and Word.

Candidate must currently have one of the following designations: ASA, ABV, CVA, AVA, or CBA. Testimony experience is a must.

Please send your resume and a cover letter explaining your experience and why you are the right person for this job to: Info@BusinessValuations.net